More Website Templates @ TemplateMonster.com - January28, 2013!
ABOUT TUSCANY AND THE AREA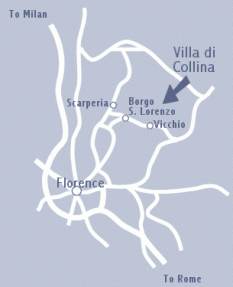 Villa di Collina is located in the Mugello area in north-estern Tuscany, also known as "the Switzerland of Tuscany", because of the hilly wooded quality of the countryside, so different from that of Chianti or Maremma. There are endless possibilities for trekking, or just walking around; the roads going north to Firenzuola, Marradi or S. Godenzo will shortly take you to the slopes of the Appennini, the mountain range that separates Tuscany from Romagna.
The village of Vicchio (2,5 km from the villa), founded in the 14th century, is the birthplace of painters Giotto and Fra Angelico. In the Museo Comunale there are many interesting pieces dating from the Middle Ages to the Renaissance. Several restaurants in and around Vicchio (da Giotto, l'Antica Porta di Levante, La Casa Matta, La Casa del Prosciutto, Il Caldetino) offer sound, tasty Tuscan cooking at reasonable prices.
For a more typical atmosphere try La Casa di Caccia (a bit of a drive, but it's worth it!).
In Vicchio there is also a camping site whose large swimming pool and tennis courts are open to the public. Nearby there are also places where one can take riding lessons or go out for a ride on horseback. If you are interested in bicycle riding, 5 mountain bikes are available in Villa di Collina. The nearby lake (20 km from the villa), Lago di Bilancino, offers water sports such as sailing and windsurfing. (View photos of the lake)
In Borgo S. Lorenzo (10 km from the villa) the old centre still retains its Medieval character; the main church, although restored, dates back to the 12th century. The village of Scarperia (15 km) has been famous for centuries for its cutlery shops, where knives and all sorts of blades are still made by hand. Today it is known for two nearby modern attractions; an excellent golf course and a car racing ground (Circuito del Mugello) where F1 trials are held.
Near S. Piero (13 km) you can see the fortress built by the Medici in the 16th century, and the castles of Cafaggiolo and Trebbio where Florence's leading family came from.
The picturesque Designer Outlet near Barberino (20 km), with its 100 shops, is well worth a visit.
Keep an eye out for the mercato (itinerant market) which is to be found on fixed week days all year round in the neighbouring villages: Vicchio, Borgo S. Lorenzo, Dicomano.
During the summer months many of the little towns and villages in Tuscany hold their fiera (fair) or sagra (feast). People gather to look at stands, eat in the open-air restaurants or dance to the sound of old time orchestras. The most important event of this kind is the ancient Fiera Calda in Vicchio, which takes place in the last week of August or the first of September. Initially a cattle and horse market, it is now a combination of commercial fair, bric-à-brac and art exhibition, horse show and other events.
You can also easily take a day trip to some of the most well known cities and towns of Tuscany such as Arezzo and San Gimignano (70 km), Siena (80 km), Pisa and Lucca (90 km). All the wonders of Rome are only 3 hours away, by motorway. And, of course, Florence is only 35 km away.
Most destinations can also be reached by train from the station of Vicchio through Florence.
For more ideas on things to see and do in Tuscany, see our links page with information on everything from Florence and Tuscany, to companies offering guided tours, to information on Italian wines and Italian language schools.